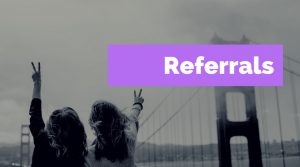 Without a doubt, when you survey the tax industry, tax business owners will tell you:
Referrals are the number one source for new clients.  
And I say, "Of course referrals are your number one source for new clients. You are in the SERVICE business!"  When you're in a service business, you better have clients telling others about you because if you don't, your "service" is probably pretty stale.   
Where To Start
How do you set the tone as the tax business owner?  How do you begin the process of making your tax business become characterized as a well-oiled, word-of-mouth, referral machine in your community, city or even region?
Well, the number one place to start comes from building a foundation.  This foundation is a culture in your office –
A Referral Culture

 
Referrals permeate everything you do.  You discuss them in meetings.  Referrals come up in conversations with your employees. Your year-round staff naturally passes your priority for word-of-mouth business along to seasonal tax preparers during tax season.  Referrals ring clear in all of your client communications.  "This is what we do here."  A successful client in our office always finds other people like themselves and encourages them to come to our tax office.  
When you send letters to your clients or you have email correspondences, there's a consistent drumbeat of talk about referrals:  How you appreciate them and how you go out of your way to take care of the friends, family and co-workers your clients send to your tax practice.
"Spread The Word" Office Environment
When you walk into your tax office:
Is it stale like most other tax or accounting offices? 

D

oes the environment purposefully build a bond with the people who come into your work space?  

Is it evident that people are taking the word to their friends?

Does the newcomer see successful clients spreading the word about your tax business and then, as a result, realize that their friends will soon take part in your office's tax filing multiplier effect?
You may have posters on your lobby wall promoting your Refer-A-Friend program. Or pictures featuring testimonials of your clients talking about how great your tax services are and how easy it is to participate in the Refer-A-Friend Program.  (Or whatever you call your referral program.  It's important for your Referral Program to have a name.)  
One of our most effective signs ever was placed on the wall of each cubicle in our tax offices.  Each of our tax offices was a high-volume, fast-paced environment.  Clients walked in (most did not make appointments) and had their taxes done that same day while sitting with a tax preparer.  As our employee sat across the desk from the client, preparing the return, the client couldn't help seeing the sign we had strategically positioned on the wall of the tax-preparing station, right over the employee's shoulder.
The sign was a Simple Referral Outline (a 1, 2, 3 Step Process) which encouraged our clients to begin thinking about their friends, family members and even the coworkers they could encourage to have their taxes filed with us.  
Through the signage, we were teaching them how best to refer others before their tax service was even finished!  This orientation was part of the referral culture of our tax business.  We made it clear we wanted all of our clients to be thrilled with their service, and we wanted them to tell the world (their circle of influence at home, in their neighborhood or at work) what we were all about because of it.  
Even The Best Referral Program Won't Work When …
Over the years, I've heard stories from a couple of my tax business owner clients who used some of these referral strategies and they didn't work.  Turns out, these tax pros were not personable.  They gave horrific service, were unorganized and did a bad job of actually preparing the tax return.  Then they couldn't understand why nobody was referring new clients to them.  
Sounds obvious.  But let me be clear.  I'm assuming you offer a good tax service … that you're very good at what you do … that you take care of your clients … and that because of your desire to be a high quality tax professional, others will naturally want to refer you.  
When you do the basics in your tax service business, you are going to get some referrals.  But everything else I've talked about will help inject a whole new level of word-of-mouth spreading in your community about your tax practice.  
Once you begin to proactively promote a Referral Culture among your clients, the first years (especially years two and three) you'll see a very nice bump in business.  At the four- and five-year mark, your clients will get it. A Culture will have been established and YOUR EXISTING CLIENTS will DO much of the "training" of the new clients for you.  This is when your RAF program is on money-making auto-pilot.